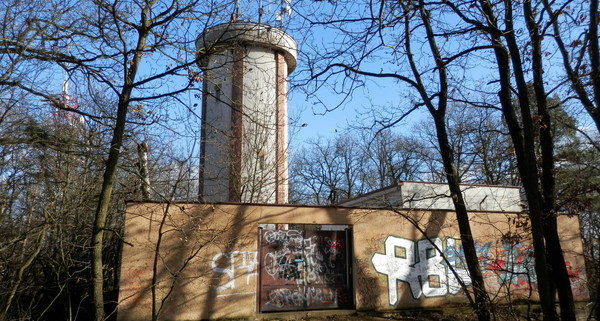 Ládví Geodetic Tower: Reconstruction & Activation
In cooperation with the Neolokator Group, the Czech National Trust has been striving for the reconstruction and activation of the unique geodetic tower situated in one of Prague's districts called Ládví. The tower is one of the nine brick geodetic towers in the Czech Republic which were built in the 1930s. Opening the entire site to the general public and enabling visitors to enjoy not only the unique architectural layout of the tower, but also the splendid view of Prague and its surroundings the tower offers have both been our main goals.
The total of nine brick geodetic towers was built in the Czech Republic between 1936 and 1942 as part of the construction of the national Astro-Geodetic Network. As has already been mentioned, one of them is situated on the top of a hill called Ládví (359 metres), the second highest point in the Prague Basin, while a significant geodetic point is to be found inside this tower.
The Ládví Geodetic Tower was built in 1936. On its east side the Ládví Hill becomes a rocky promontory and offers a splendid view: if the weather and visibility allow, one can see as far as the Říp Mountain and the Central Bohemian Highlands. Even Karel Hynek Mácha (1810 – 1836), a famous Czech poet, admired this viewpoint when he climbed the hill in 1835. Being the second highest point in the Prague Basin, the Ládví Hill also offers a spectacular view of the entire city, the Giant and Jizera Mountains in the north of Bohemia and even of the highest point of the Ore Mountains, which is called Klínovec.
The main goal of this project is to revitalize the entire site – not only by building a lookout tower, but also by creating a destination for relaxation and picnics. Today, the Ládví Geodetic Tower is being rented by the Czech Ministry of Interior while the actual owner is the Czech State Administration of Land Surveying. In cooperation with the Prague 7 and Prague 8 districts, we have been preparing a reconstruction project which also includes a reconstruction and revitalisation of the area surrounding the tower itself. The tower would remain the property of the State Administration of Land Surveying, but it could be rented to other organisations or societies that would run it. Through this project, this fantastic place could be opened to the general public.
Photo gallery
Location