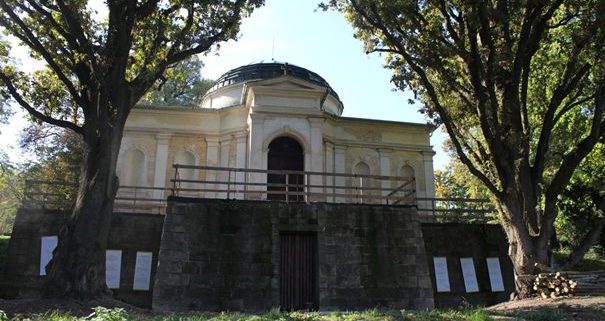 Marie von Ebner-Eschenbach Literary Trail
The surroundings of Zdislavice, a small village and municipality of Kroměříž District in the Zlín Region, are still abundant in the beautiful nature that Marie von Ebner-Eschenbach (1830-1916), a Zdislavice native and one of the most important German-language writers of the latter portion of the 19th century, frequently depicted in her works. It is also one of the reasons why the Marie von Ebner-Eschenbach monument along with her tomb are not only the destination, but also a popular starting point of walks and hikes through the picturesque and poetic nature in the region – a favourite activity of Marie von Ebner-Eschenbach herself.
The key idea behind the Literary Trail Project is one of Marie von Ebner-Eschenbach's works. In one of her books, she describes how she sets off on a walk around the castle, possibly in the direction of Hoštice, and how she soon realizes that she is walking on the very same path her ancestors and other locals would walk on. She thinks about them and their lives, muses on what their dreams and wishes might have been and whether these had come true for them.
And who will walk the very same path in the future? The future traveller also becomes a part of Marie von Ebner-Eschenbach's story of generations and the story thus becomes their own as well. Their time too slows down, so much that it can be measured by the mere number of their footsteps…
The Trail
A trail of around 4 km was created as part of the Marie von Ebner-Eschenbach Literary Trail Project. It runs from Zdislavice Castle grounds to Hoštice alleys, and from there it takes the long way round back to the castle grounds. The trail is marked by the standard tourist marking system for educative trails, and it is complemented by 7 rest areas with benches that have Marie von Ebner-Eschenbach's quotes on them, each of which describes the local landscape. Particular attention will be given to the design of these rest areas so that they eventually blend into the landscape. Because of the international significance of the writer, the trail marking system will also include English and German translations.
Photo gallery
Location